Food Safety Protective Clothing and Supplies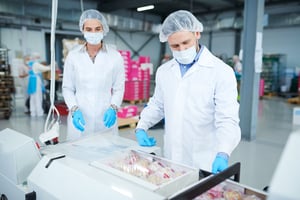 In the food industry, employees not only need to wear protective clothing and gear for their own safety, they must wear protective coats, gloves and hats to prevent themselves from contaminating the food they are manufacturing.
As a leading supplier of food industry protective clothing and supplies, US SafetyGear, Inc. provides a wide range of aprons, hair and beard nets, disposable gloves, cut-resistant gloves and safety boots and shoes to not only help minimize hazards such as burns, cuts, and slips, but also to prevent contamination. We provide products that meet the food industry's unique needs, including food safety protective clothing and supplies, from well-known brands including Gateway Safety, Inc., 3M, and Liberty Glove & Safety,
Interested in learning more about the food industry clothing and supplies US SafetyGear, Inc. offers? Contact us today.