Safety Practices in the Manufacturing Industry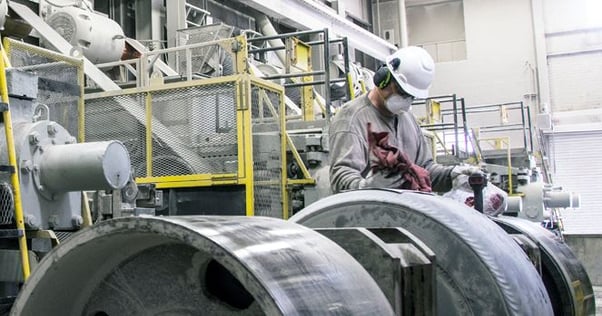 Factories are often considered to be some of the most dangerous places to work, but having and using appropriate PPE (Personal Protective Equipment) that is certified to meet manufacturing industry safety standards can reduce the risk of and mitigate injury. US SafetyGear, Inc. understands the importance of safety in the manufacturing industry. Offering the best protection apparel and equipment, including men's and women's safety shoes and boots, is the goal of US SafetyGear, Inc., and as a leading supplier of manufacturing industry PPE we offer products from the top brands, including 3M, UltraTech, Gateway Safety Inc., Timberland PRO and Carolina.
Fall protection is one area of serious safety concern for manufacturing facilities. Liberty Mutual found that falls on the same level and falls to a lower level were two of the top three most common and costly causes of disability injury. Proper fall protection, slip and trip prevention, and spill containment equipment can help prevent these injuries from occurring. But falling is just one risk faced, safe maintenance on equipment requires lock-out/tag-out hasps, and just using equipment or cleaning up messes requires proper PPE including hard hats, safety glasses and goggles, gloves and respirators.
As a leading supplier of manufacturing industry protective apparel and equipment, US SafetyGear, Inc. provides a wide range of safety products including men's and women's safety shoes and boots, first aid, hearing protection, fall protection, and head and face protection to help in ensuring your employees' safety. To learn more about our manufacturing PPE, contact us today or visit one of our Ohio retail stores.