Improving Electrical Safety in the Workplace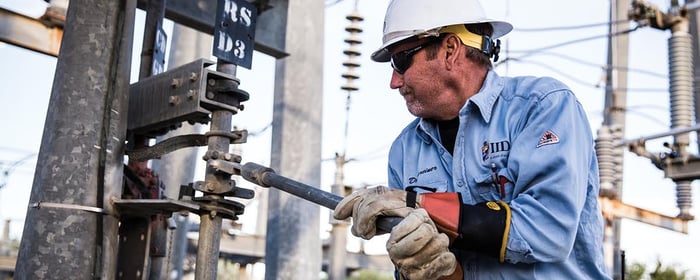 According to the Electrical Safety Foundation International (ESFI), more than 30,000 workers have been injured in workplace electrical accidents over the last 10 years. You can improve electrical safety in the workplace by providing men's and women's safety clothing and equipment that meets safety code requirements.
As a leading supplier, US SafetyGear, Inc. carries FR clothing, including shirts, pants and jackets, and other personal protective equipment (PPE) from well-known brands, to help reduce risk and injury from electrical hazards such as shocks, arc flashes and arc blasts.
Arc Fault = Arc Blast + Arc Flash
An arc fault is a type of electrical explosion due to a rapid release of energy. When this explosion occurs, it releases a pressure wave called an arc blast. Light and heat are also emitted by the arc fault and are called an arc flash.
Fluke, a leader in manufacturing in the electrical industry, reports that up to 77% of all electrical injuries are the result of an arc flash, which according to GE Industrial Solutions, can reach temperatures as high as 35,000 °F (hotter than the surface of the sun) and can be caused by:
Accidental contact
Underrated equipment
Contamination or tracking over insulated surfaces
Deterioration or corrosion of equipment and/or parts
Both arc flash and arc blast are severe threats in industrial electrical environments. By having the proper FR clothing and other arc safety equipment, you can reduce your risk of severe injury and death. US SafetyGear, Inc. carries FR clothing that meets the requirements of the National Fire Protection Association (NFPA), including NFPA 2112, an industry standard for FR protection against flash fire.
In order to comply with NFPA 2112, all flash-fire clothing must:
Achieve a 50 percent or less predicted body burn
Defy melting, dripping or after-flame burning
Have appropriate labeling in an easy-to-see location
Meet all NFPA 2112 requirements and tests and be UL certified
As a leading supplier of FR PPE and apparel from the top brands, US SafetyGear, Inc. can help you purchase devices, footwear and insulated gloves that meet the safety code(s) for your work.
To learn more about our electrical PPE, contact us today or visit one our Ohio retail stores.